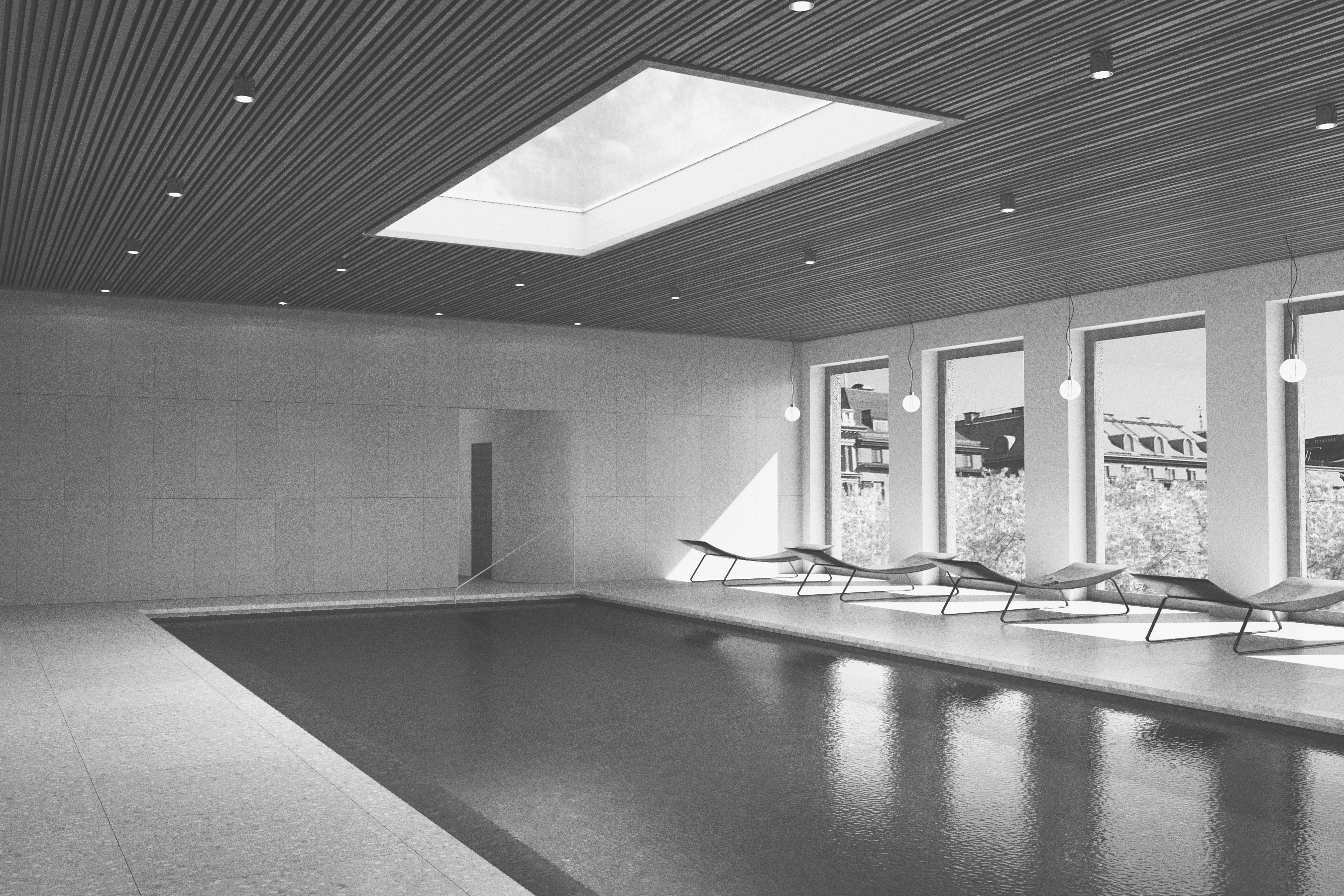 "How can one make a contemporary addition to a site of national interest that stands on its own while keeping a connection to the surrounding historical buildings?"
"How can one create intimate contemplative spaces in an urban setting?"
This thesis investigates and presents a design proposal for a public bath in Kungsträdgården. The park has been public since the 18th century and been in constant change ever since. The site, Sju sekel, is now facing a new era of change as the restaurant building at the property is being torn down. In this project we want to challenge what this site could be, nuancing the debate by adding a new public function.
The project consists of making a contemporary building that stands on its own in a historical site of national interest. A building that can become an addition and motif to the site while keeping a connection to surrounding buildings. Facade expressions sometimes lack consideration in proportions, materials and disposition. The facade is the face of the building and creates a backdrop of the urban public life, it is therefore important to pay greater attention to the exterior of the building. In a location like Kungsträdgården, the facade expression is of even greater importance as it needs to take the historical values into consideration. In this thesis we also want to test how historical and contemporary examples can be used as a starting point for a facade investigation.
In our contemporary lives there is a longing for spaces of contemplation, spaces that move you.The bath is used as a contemplative ritual within various cultures and is therefore an appropriate function for an investigation of such spaces. There are several methods and strategies that can be applied in order to create contemplative spaces.Considerate design of space, shape and light as well as choice of materials creates a bodily experience that works as means of forcing the visitor to be present. The architectures scale, spatial configuration, light and materiality should create an experience, and in turn, support the contemplative function of the bath. In this thesis we aim to create an urban bath that can combine the sensuality of sacral spaces with the urban everyday life.