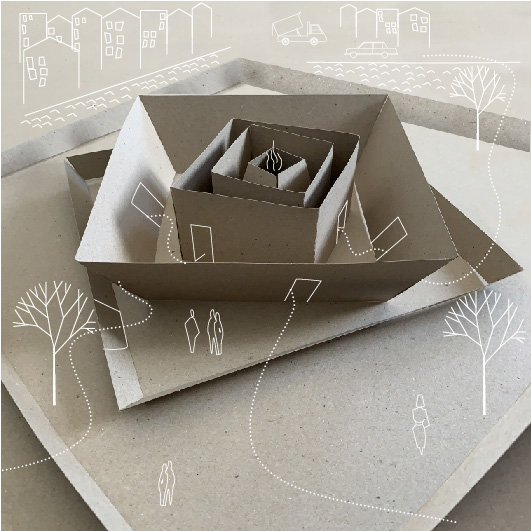 Urban Refuge.
-Design for decreasing urban stress in a dense environment.
---
In today's society where we are always on the move or in the middle of an activity and spend more and more time in urban environments with its noise, high density and cognitive and visual stimuli, where we are in close quarters with lots of people to whom we compare ourselves and unconsciously competing with, but don't feel a sense of community with, are environments for recovery important. We feel better spending time in nature than in urban environments. So how can we translate nature's positive effects into architecture? This thesis investigate architecture in connection to urban stress and Biophilic design.
---
Research question.
How can we design public buildings in a Scandinavian context
that helps to decrease urban stress?
---
Aim.
The aim is to investigate how architecture and design can promote stress relieve in a public building and increase the feeling of community among visitors.
"We shape our buildings and thereafter they shape us."
-Winston Churchill.
---
Background.
"Mental health matters, but the world has a long way to go to achieve it."
-Dr Margaret Chan Director-General WHO.
---
Urban stress.
Today over 50 percent of the world's population lives in cities with it's visual, aural and cognitive stimuli of advertisement, traffic and high density environments. We live in urban environments where we are in close quarters with lots of people that we are close to but often lack the sense of community with. There is a higher risk of stress related disorders if you live in cities rather than in rural areas. Urban stress is defined as a city specific social stress due to the social density in combination with social isolation.
---
Biophilic Design.

"A space with a good Visual Connection with Nature feels whole, it grabs one's attention and can be stimulating or calming. It can convey a sense of time, weather and other living things."
-Browning, W.D., Ryan, C.O., Clancy, J.O. (2014)
Biophilic Design is an approach to architecture that seeks to strengthen the connection between human beings and nature, through direct and indirect contact with nature and the nature of space. Three of four chapters in this thesis are based on these categories, but the first is Program.
---
Program.
"…offer what no other contemporary building type provides: vibrant, informal, attractive, non-commercial community places where people of any age, class, gender, race, religion, or ethnicity can gather…"
-Sarah Williams Goldhagen
---
Nature in the space
Nature in the Space addresses the direct and physical presence of nature, including living organisms, water and natural elements such as breezes and sounds. This has been important when choosing the site in the town of Varberg.
"When I sit here by the sea and listen to the sound of waves, I feel free from all obligations and people of this world."
-Henry Thoreau
Context.
Varberg, Sweden.
Since the 19th century, Varberg has been profiled as a spa resort, in Swedish "Kurort" the concept is defined as a place for treatment of illnesses, for recreation and relaxation. During the last 2 centuries the town has been a place where inhabitants and visitors has enjoyed the coastal nature, fresh air, healthy water and baths as well as the wellness effects of social connections on a string wellness locations along the ocean walk.
"Healing is a matter of time, but it is sometimes also a matter of opportunity."
Hippocrates
---
Nature of space.
Nature of space is about the spatial configurations and atmospheres in nature, divided into Prospect, Refuge, Mystery and Risk/Peril conditions. Prospect conditions is the ability to have a good overview of one's surroundings.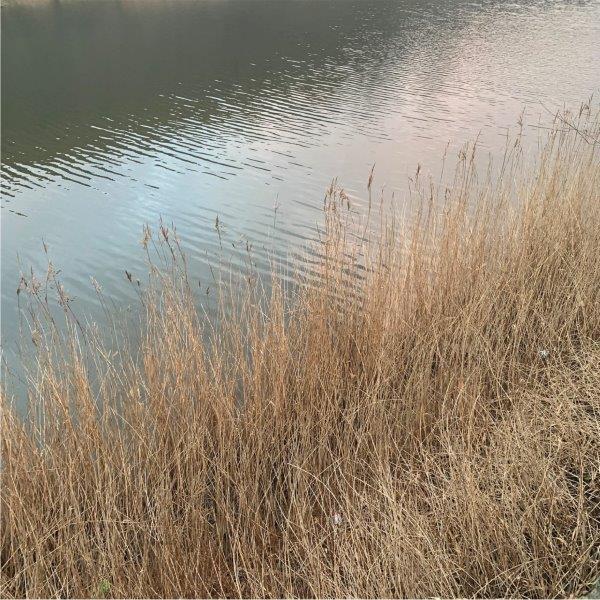 Refuge is a place to find shelter from weather, wind, predators as well as activity. Sitting in a tree with your back against the trunk overlooking your surroundings is one of nature's prospect-refuge settings. Mystery characterizes a place where you are encouraged to trough movement explore and seduced to move forward to see what's around the next corner. A space with a good Risk/Peril condition feels exhilarating and is triggered by a near and present danger. This danger, however, is inert and unable to cause harm due to a trusted element of safety.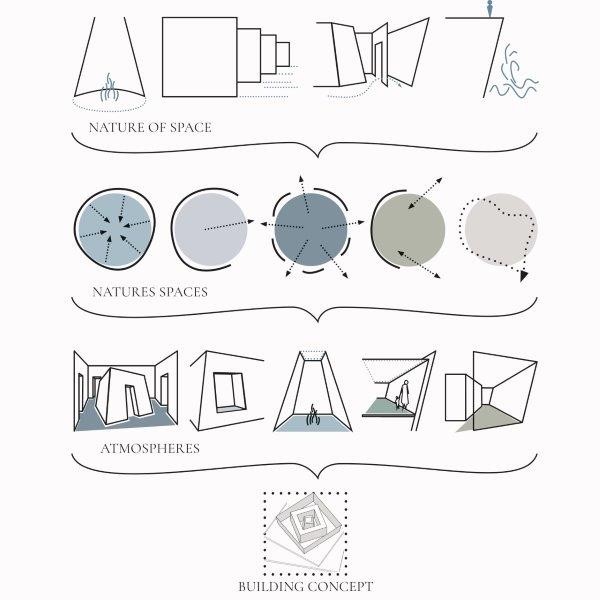 The building and atmospheric concepts in this project takes off in the theory of the four situations in Nature of the Space. Refuge, Prospect, Mystery and Risk/Peril are in connection with the places for different types of being, program and site analysis translated into spatial concepts based on coastal spaces in nature.
"..to introduce a sense of freedom of movement, a milieu for strolling, a mood that has less to do with directing people than seducing them."
-Peter Zumthor
---
Natural analogues.
Natural Analogues addresses direct and indirect evocations of nature. Materials, organic and non-living objects, colors, shapes and patterns found in nature and manifested in the built environment, materials that have been processed or altered like wood planks. These providing an indirect connection to nature. The advantages in consideration to mental health is among other decreased diastolic blood pressure, increased comfort and positive effects on stress responses.
The wooden structure has a pattern that is so complex that we can spend time just studying it, still so smooth that we don't get tired by it. It gives us an opportunity to disconnect from our pain or even for a while forget that we are stressed.
---
Design.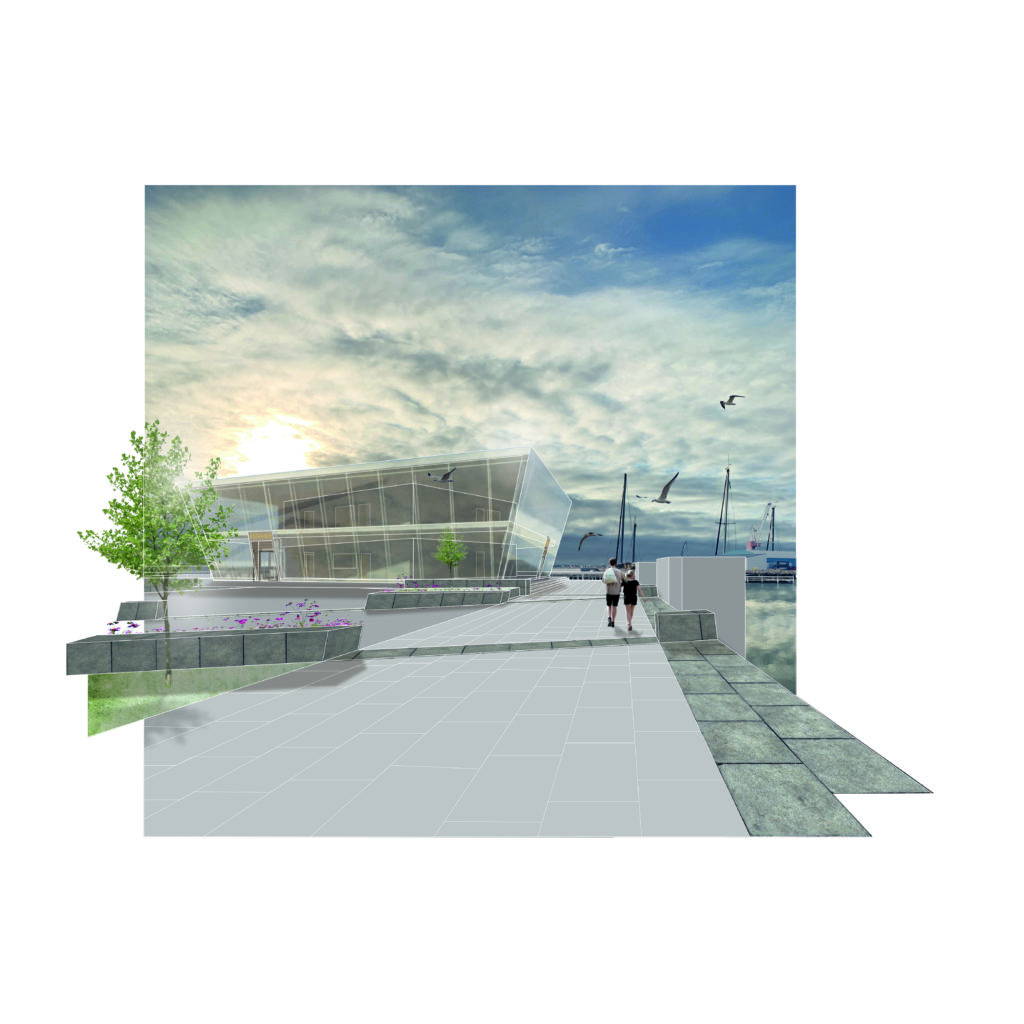 Outer cube.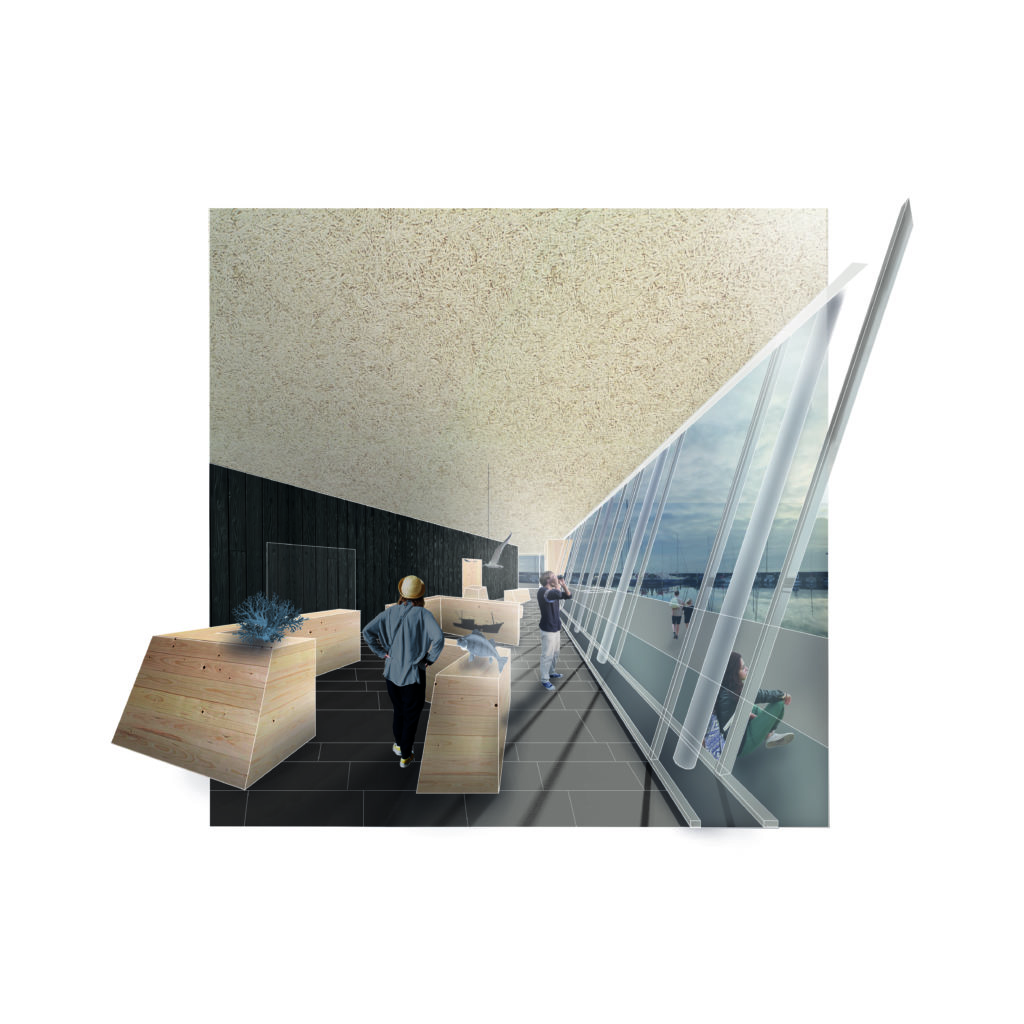 Middle cube.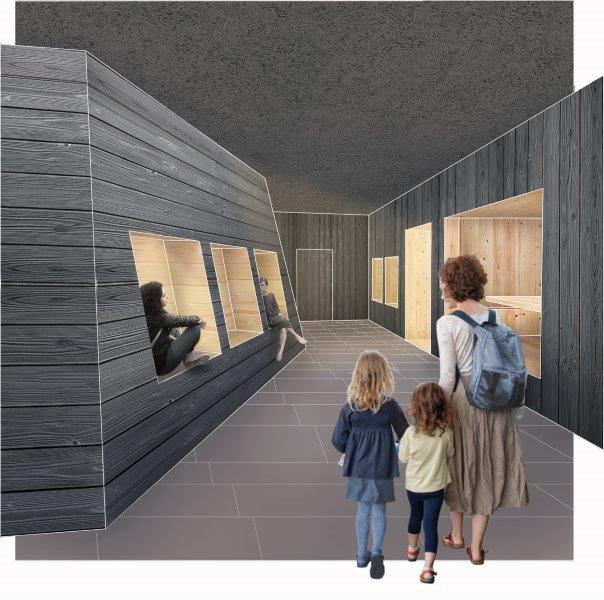 Inner cube.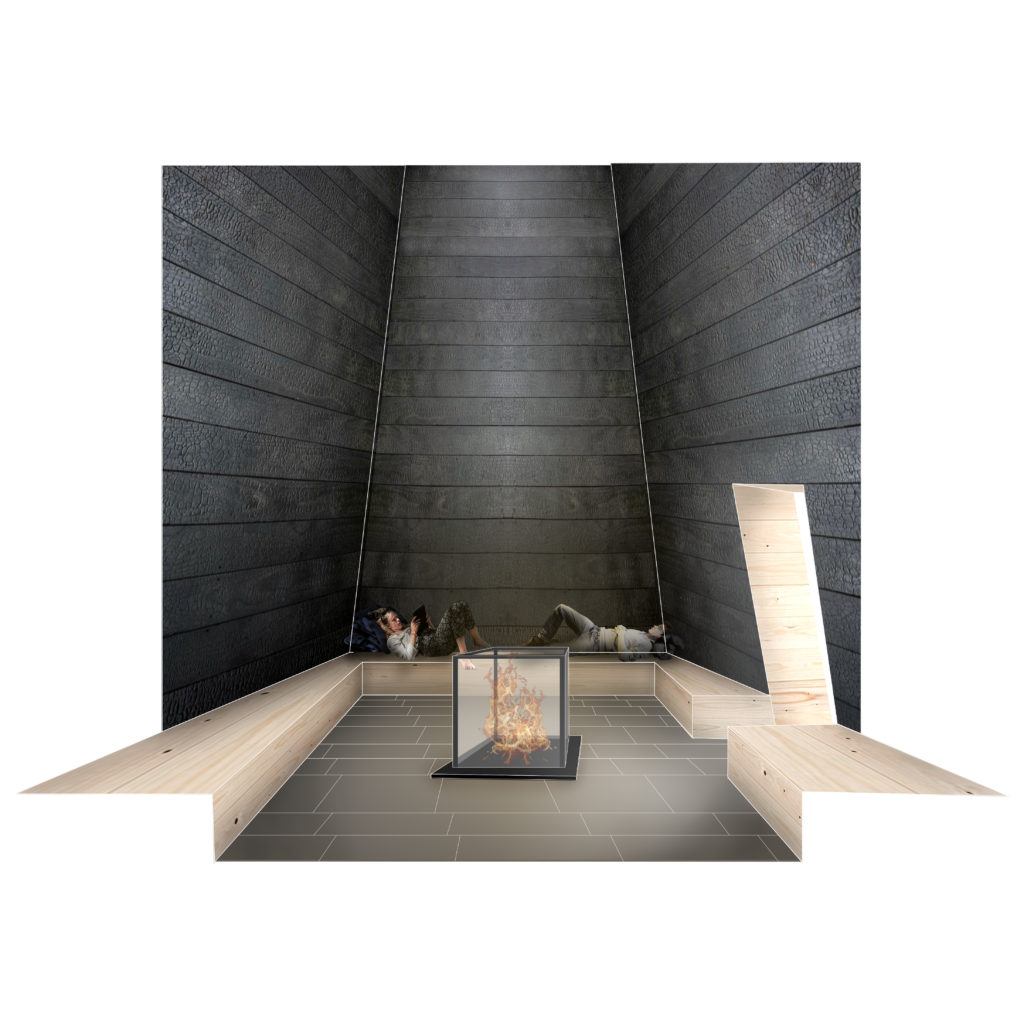 ---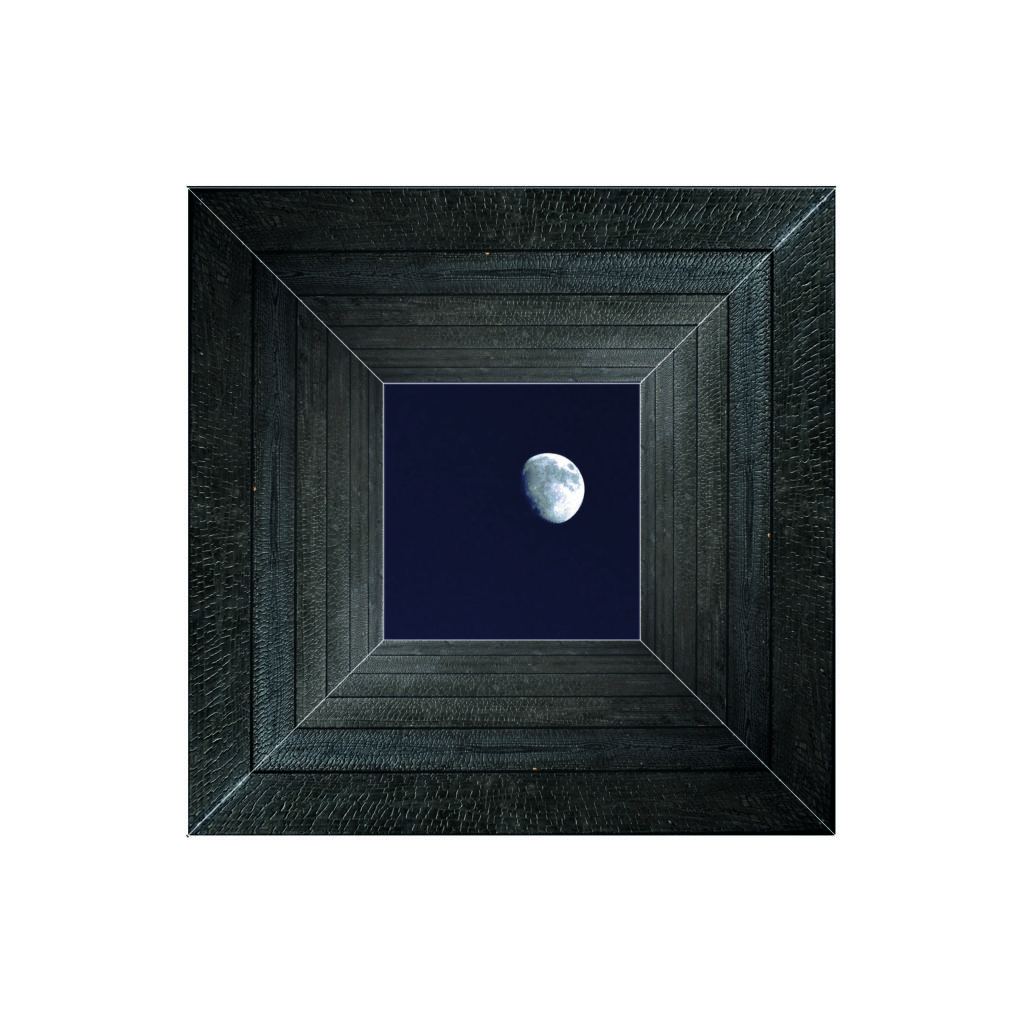 Thank you.