Thing-ness
– Making and Re-imagining Architectural Bricolages.
.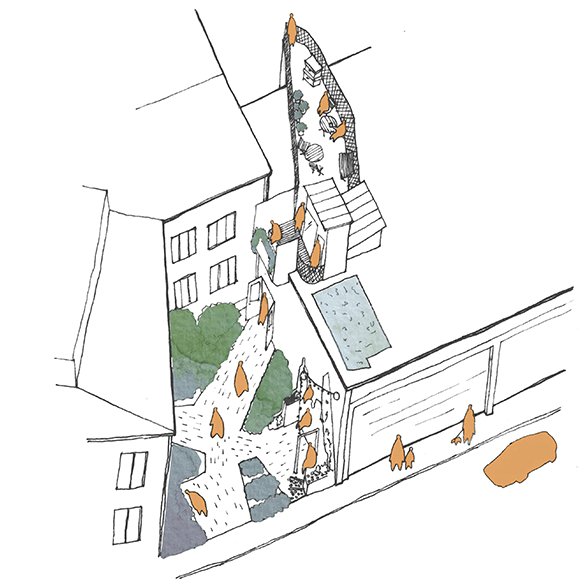 .
Design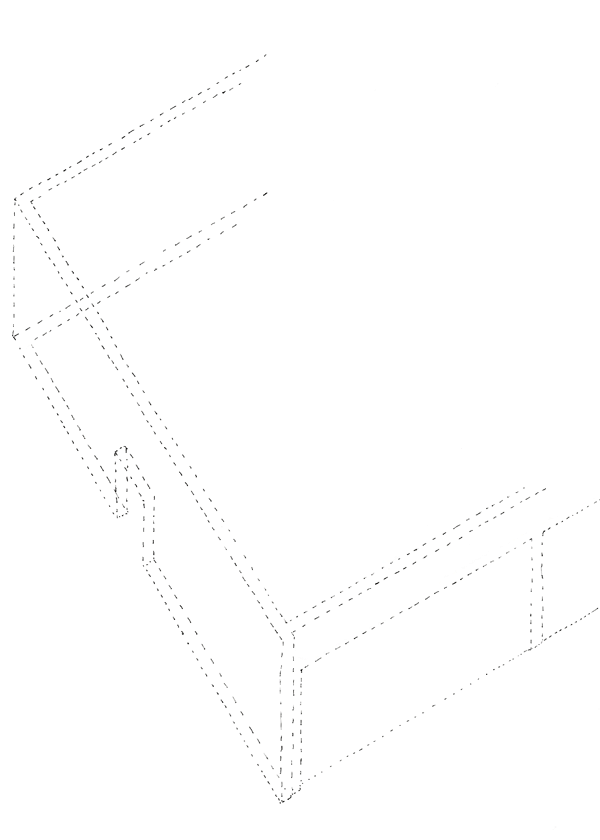 Proposal
The design proposal results in the transformation of a parking garage in Gårda, Göteborg into a horticultural centre. The proposal holds a spatial richness created by both providing a sequence to move through the different spaces as well as opportunities to stray and pause.
Another aspect of richness in the design proposal is the material richness found as a result of varying forms of material sourcing. This mix consists of reused materials from the site, other reused materials, standard building materials, fabricated materials and especially crafted material pieces. The hybridity created by this material use make for a materially interesting environment and work as a celebration of materiality.
The design proposal consists of three parts: a garden courtyard, a rooftop terrace and an interior lecture and exhibition space.
About
The typology of the cultural centre, Kulturhus, is in the proposal combined with the specialized area of horticulture in order to form a public environment for education in this field. An increasing public interest in local food production can here be explored and developed through lectures, workshops and exhibitions.
The program creates a space where cross-disciplinary events involving horticulture and other forms of culture can take place. Different actors can make use of this platform, for example schools in the Gothenburg area, public actors, universities, the industry, associations and other types of horticultural and cultural practioners.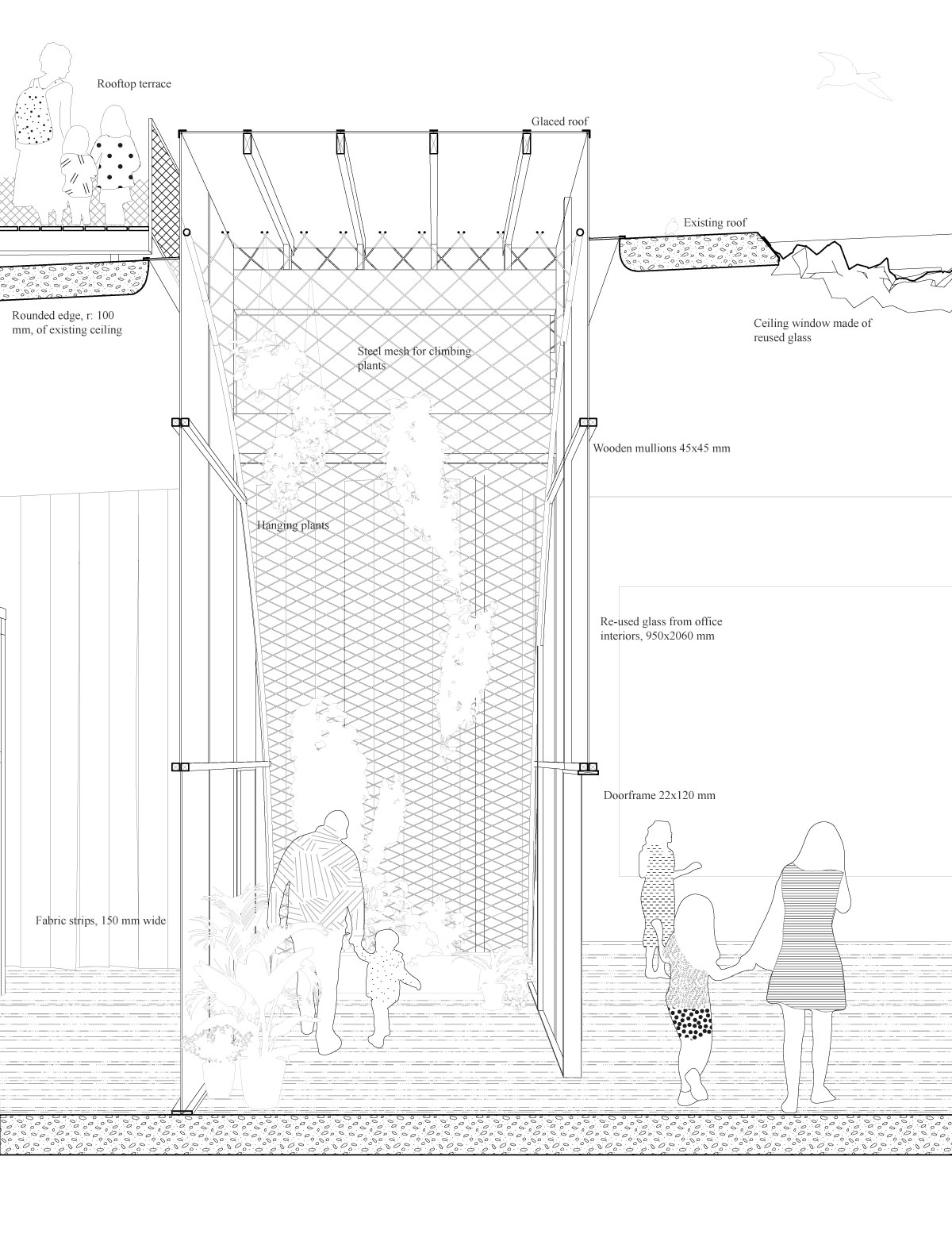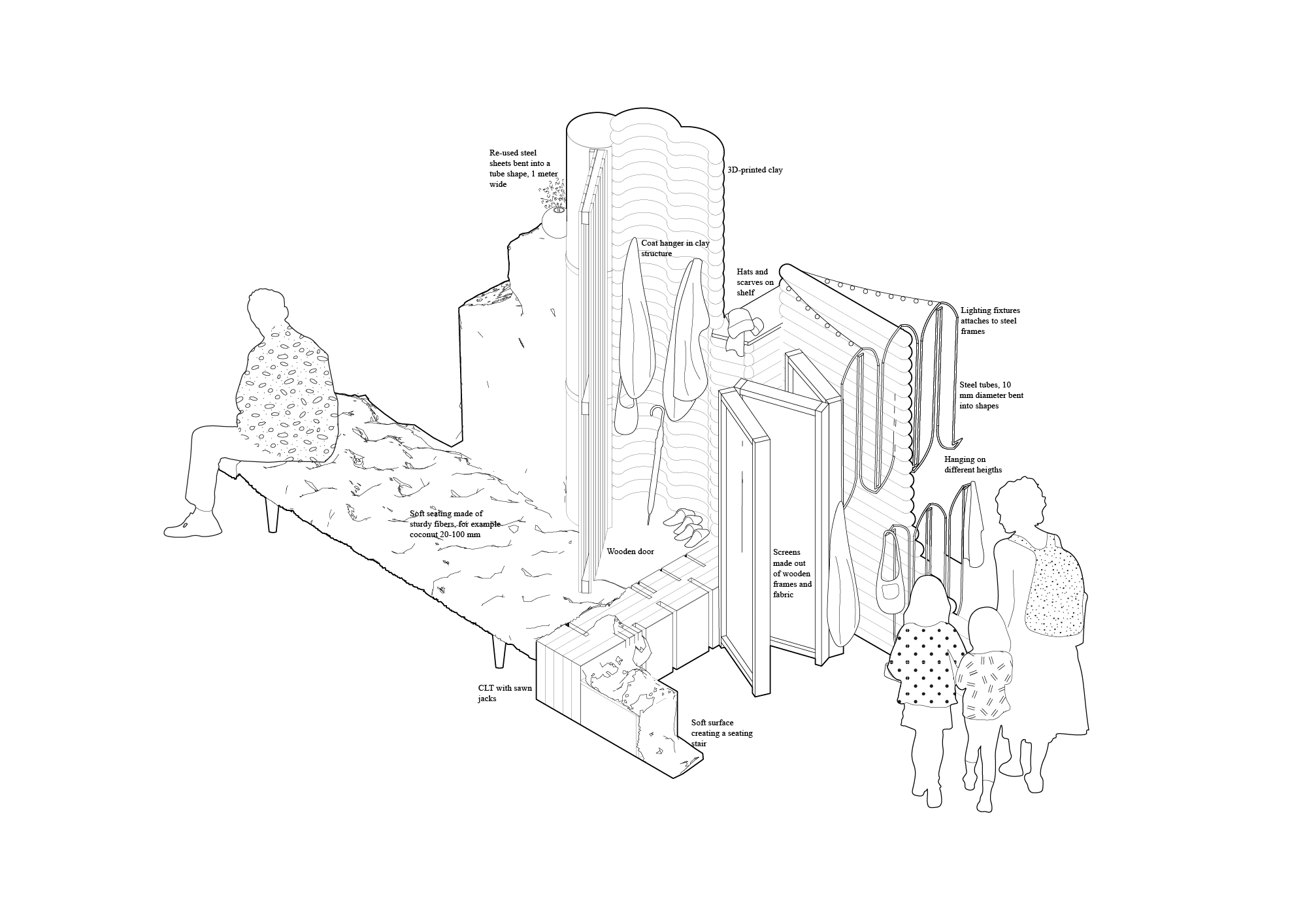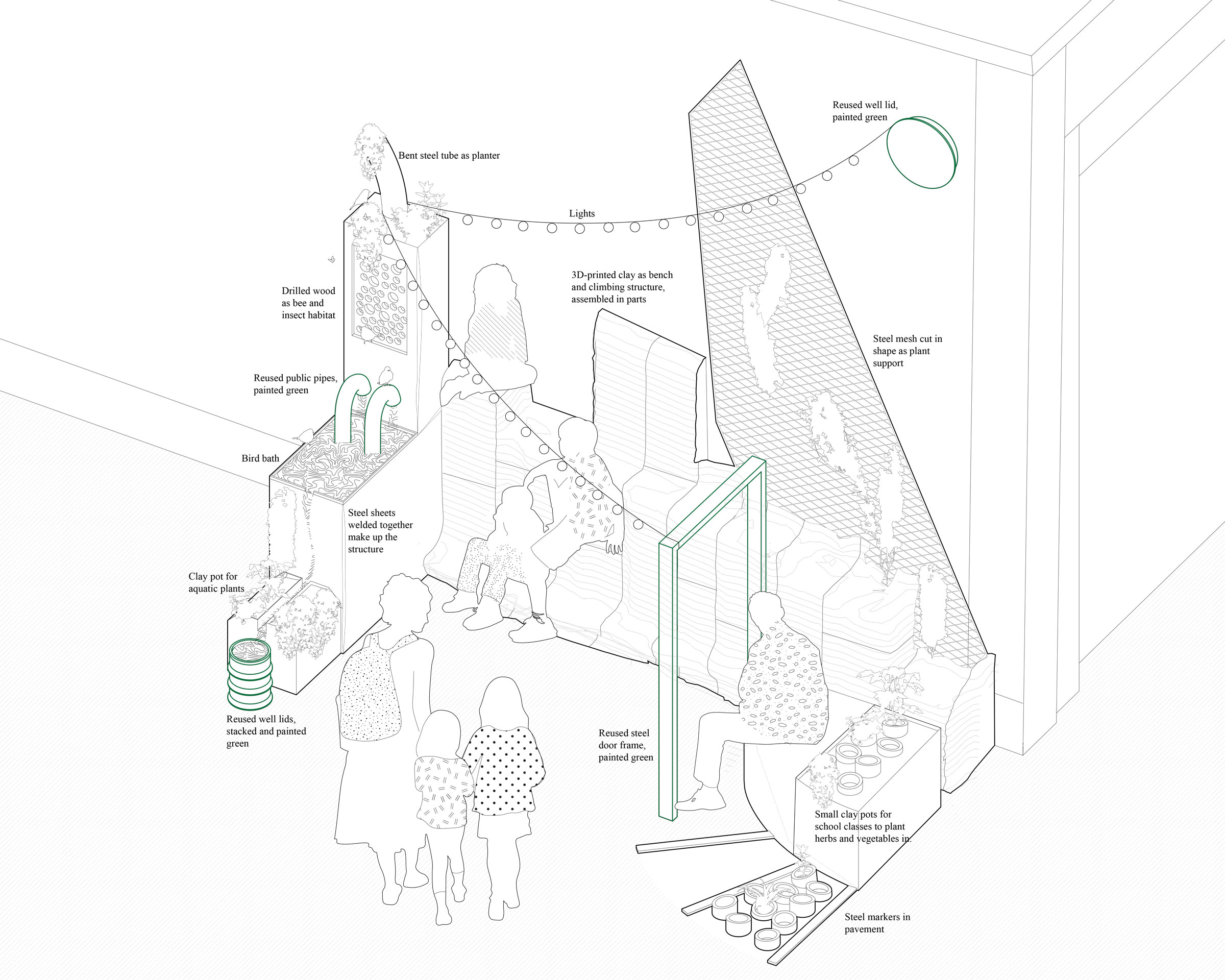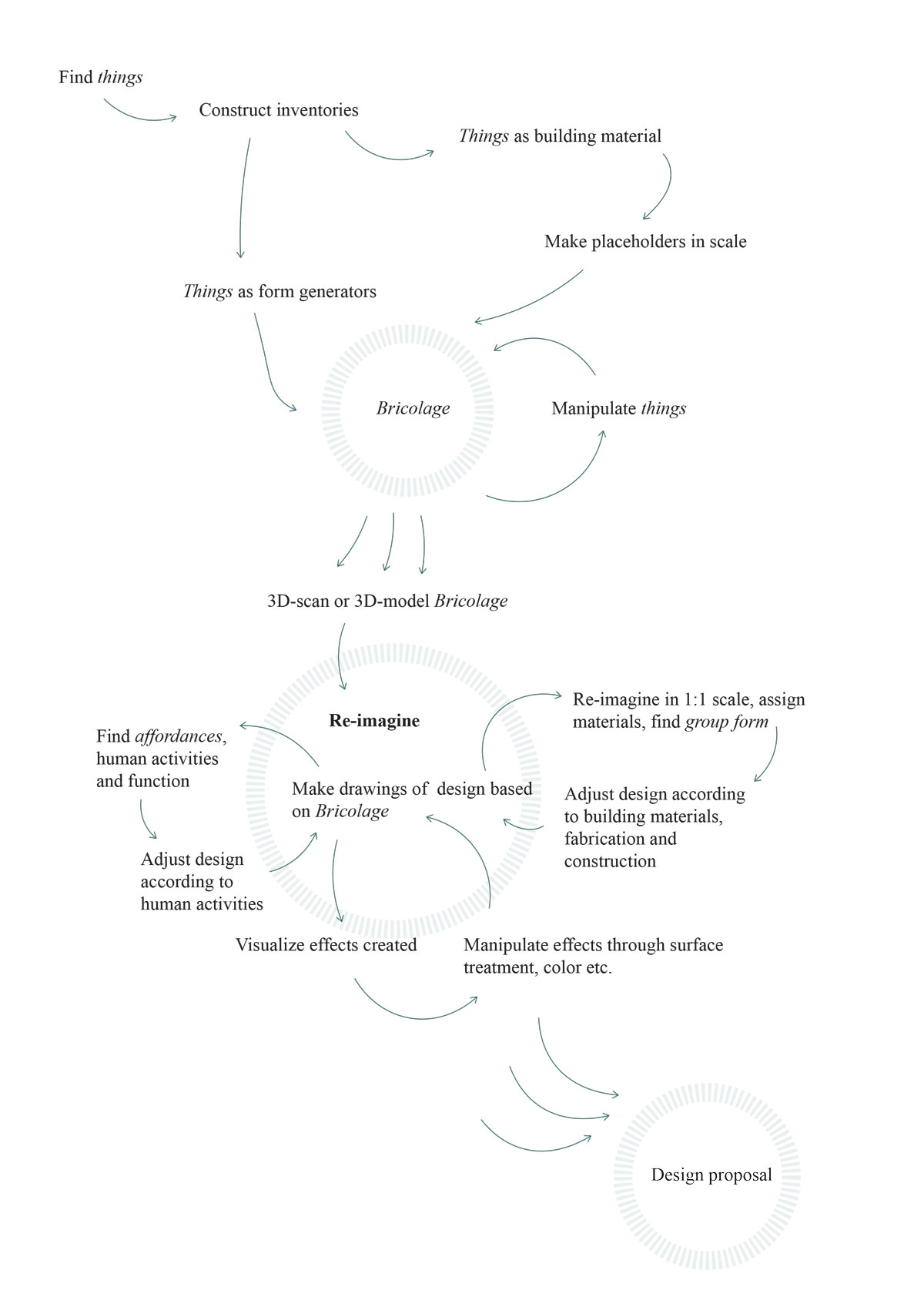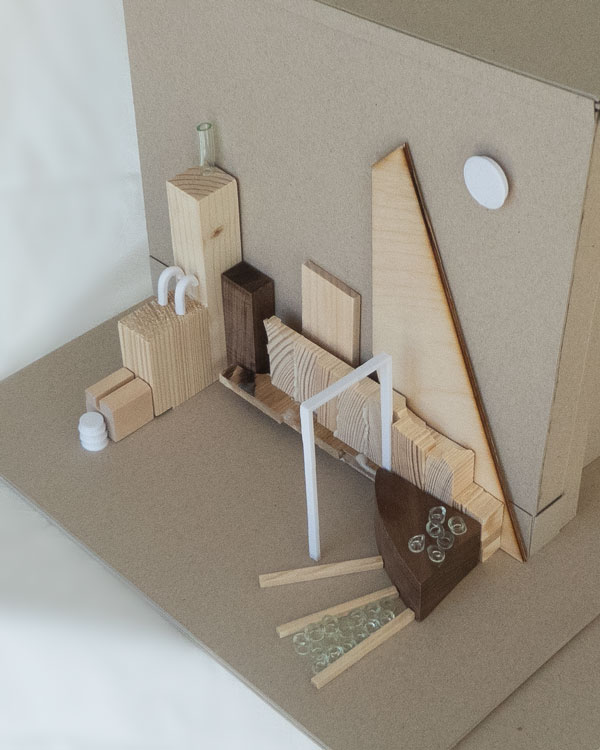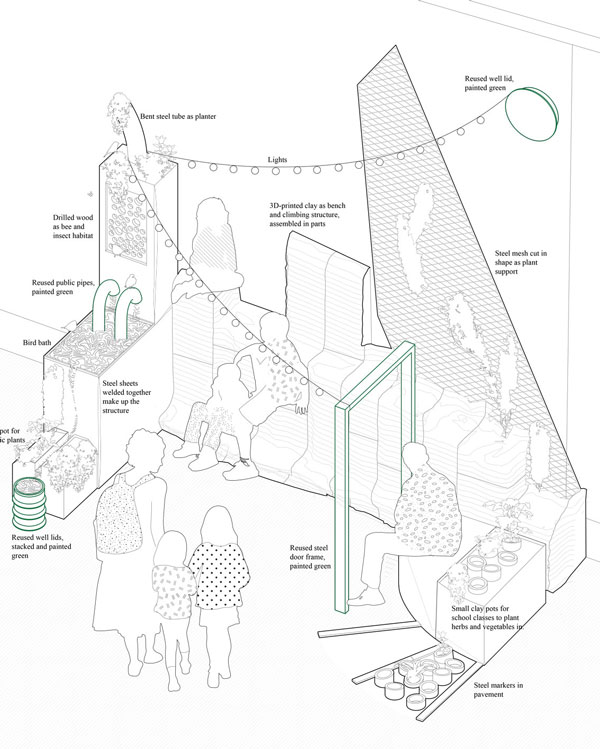 Process
The design process behind the proposal is here mapped. The process starts with found objects being used to make physical bricolage models. These are then in turn re-imagined in order to inform a design proposal through tools such as 3D-scanning and architectural drawings. This process leads to unexpected affordances being found and new material situations which are then visualised and evaluated.
.
Developing a Methodology
Bricolage models
Shown are some examples of Bricolage models. More about the development of the methodology can be read in the thesis booklet:
.
Background & Theory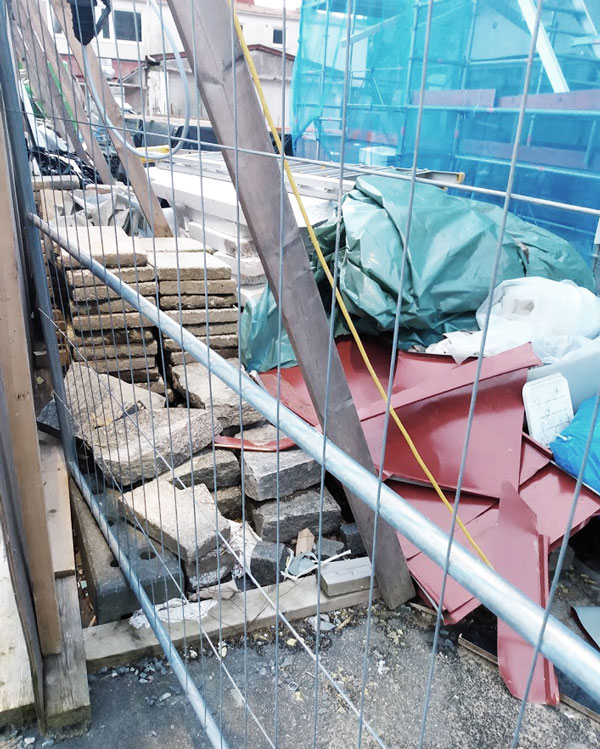 "Is there not also a part of the world that is opposed to excess, and precisely desires less? Not to find less, but to use less to find something else. Something more. A different more. Imagination is the key here. An imagination that does not start from the excess, but embraces the less."


(Grafe et al, 2016, p. 3)
Abstract
The thesis explores an alternate trajectory of aesthetics with background in the current climate crisis and lack of conventional material resources.
Addressing the current shortage of raw materials as an issue relevant to investigate through design, the thesis view these material limitations as forming possibility for an architecture inclusive of materials as both signs-and-things as phrased by Susannah Hagan (Hagan, 2001).
The idea of the Architectural Bricolage is developed in the thesis as mode of thought to encompass research on several scales, focusing on effects created through reuse of salvaged material of different sorts. The use of digitization in this context becomes a tool to capture, create and recreate effects.
Bricolage
"construction (as of a sculpture or a structure of ideas) achieved by using whatever comes to hand"

(Definition of BRICOLAGE, n.d.)
Thing-ness
Material networks
Creative potential
Critical assemblages
.
Contact
Frida Göransdóttir