ENTRANCE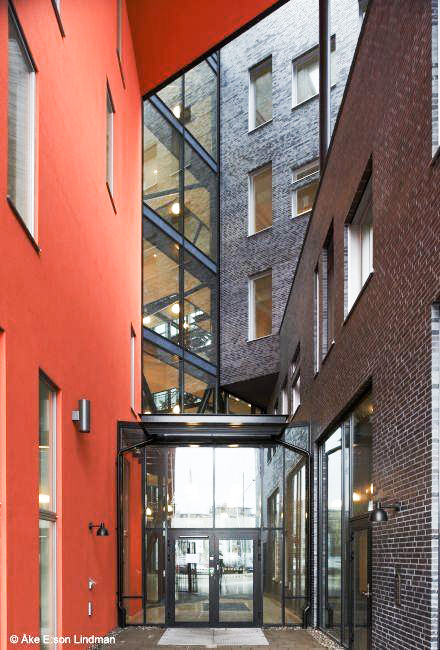 The broken corner of the entrance provides space for a terrace on the second floor. The facade is very clean and the entrance is narrow and unwelcoming to visitors but protects the workers from the elements. It creates a good sightline from the atrium to the lighthouse.
PUBLIC SPACES
The office wing is laid around a common central room; The "heart" in the quarter. The central room connects the floors both functionally and visually and enables both flexible access to and division of the office premises.
Corridors surround the courtyard. There are many different protruding balconies in the corridor that can be used as leisure space, sofas and seats are also arranged in the corridor, which also serves as a public kitchen and dining room for employees.
STEEL TRUSS
The steel trusses carrying the roof are very industrial and give a very light feeling. They create a more closed-in feeling to the whole balcony on the top floor. The beams are mostly carrying the roof, but one of them is holding up the fences above the reception with thin metal rods.