"Ah Biskopsgården! No, I have never been there, but I know it from what is said about it in the media."
Before this semester I had only been in Biskopsgården once, which is a lot more than many people in our segregated city.
After the AU collage about Biskopsgården I had a strong feeling that I wanted to go there again. I must admit that even though I had been there before, I got surprised by how nice it was. It is really green and varied and feel similar to Guldheden or any other housing area from the same time in Gothenburg.
When I got back, I started to think on how I could collage my experience and image of Biskopsgården. I googled and came to some news articles mentioning Biskopsgården in GP. That was when I started to search for all their articles mentioning the neighbourhood, downloading all published during October, and then mapping what they were about.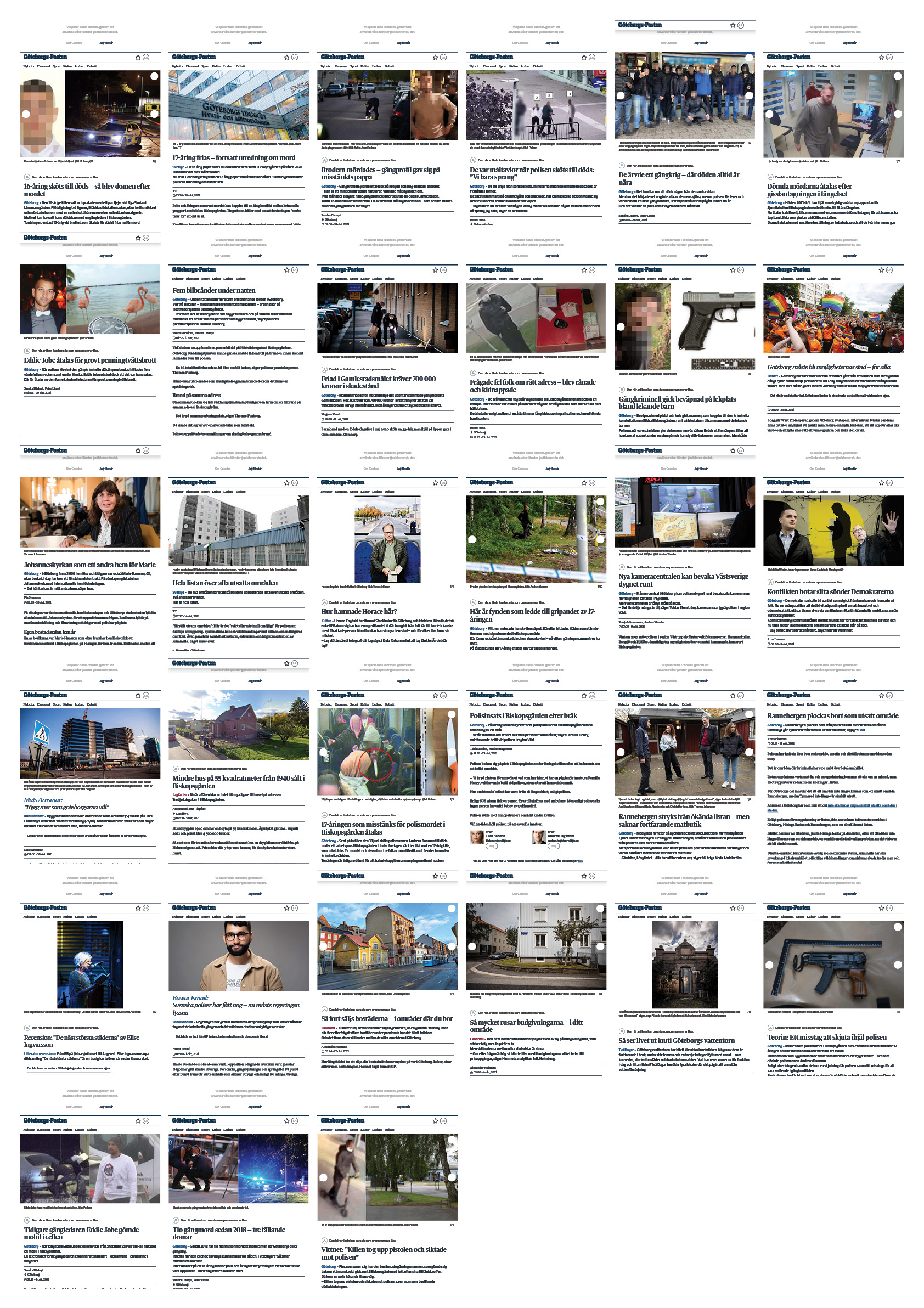 There were 33 articles mentioning Biskopsgården during October and almost all of them are about the gang crime, murders, shootings and kidnappings. I mounted all the front pages onto one A1 paper, and then continued with all the side 2 onto the next and so on. What I saw on page three were that some articles already were finished so then I mounted photos that I had taken in its place. Looking at it I really liked the kind of metaphor to "it is through the cracks the light shines through" therefore I continued to do that until I had covered eight A1s. At the end there are not many articles left and instead it is more the pictures from the neighbourhood that gets to talk and tell their story, even though the bad stories never leave completely.

This is not a typically good-looking collage, but I really like how it turned out and what it communicates in its own simple way. As with the earlier collages, I understood more of my visits after doing this collage even though I was back at school.